Kent's Cavern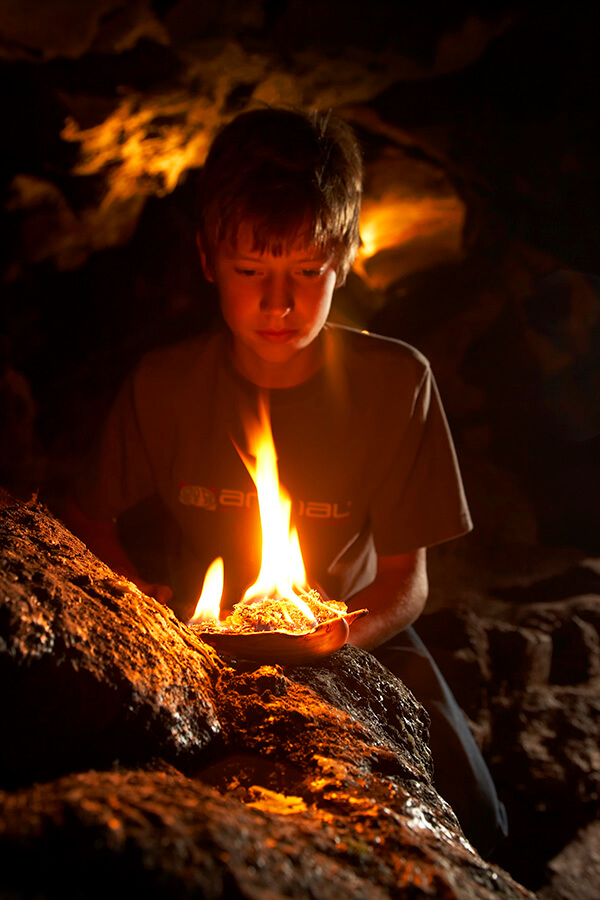 Prehistoric Caves in Torquay
Located in the Wellswood area of Torquay and just a short walk from our Muntham Apartments and Town House, the cave network has documented evidence of human explorers since the 1500s. However, evidence found in the caves reveals that they were home to human beings tens of thousands of years ago. in fact a fragment of jawbone found in the caves could be as much as 44,000 years old. This makes it the earliest human life in north western Europe.
Interestingly, this would indicate that homo-sapiens lived side by side with Neanderthals for quite some period of time; something that was doubted prior to the dating of the remains.
Animals also used the caves and there are remains of Cave Lions, Sabre tooth cats, mammoths and rhinos. These all could have used the caves at around about the same time as the humans. Further back in time there are bear remains believed to be 500,000 years old.
The caves were formed some 2 million years ago at a time when the Earth was entering and leaving a number of Ice Ages. Although the ice never came as far south as Devon, the periods of ice age saw sea levels dropping by as much as 120 meters. This meant that the sea disappeared and this part of the country was joined to France.
At low tides in Torquay it is still possible to sea fossilised remains of forests that grew where the sea now is. With the return of warm periods between the ice ages this part of Devon was home to abundent numbers of hippos.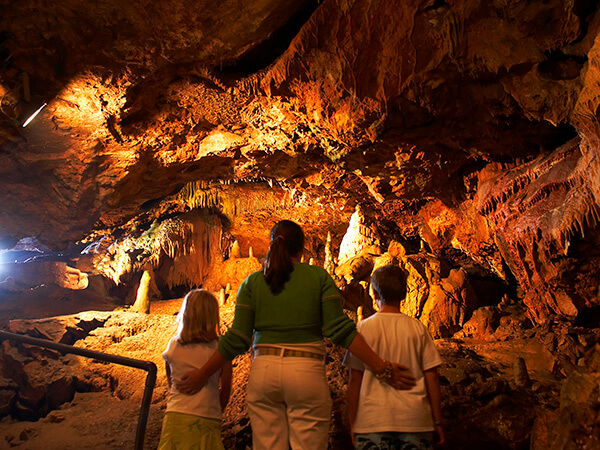 In the Victorian times serious archaological excavations of the the caves began and by the time Agatha Christie was born, the caves would have been well known. In 1903 they passed out of the hands of Lord Haldon and into an ancestor of the current owners.
Adhoc tours began soon after but it was not until 1925 that it became a tourist attraction in the sense we would recognize today.
Agatha Christie and Kent's Cavern
The caves feature in one of Agatha Christie's early novels - The Man in the Brown suit (1924). In her book they have the name of Hampsly Cavern.
For more information on Kent's Cavern: Click here.
Check availability and rates at our Self Catering Accommodation in Torquay for your Agatha Christie break.
If you are interested in visitng Kent's Cavern and are looking for places to stay we have a range of self catering accommodation in Torquay that are close by and from which the caves can be reached either on foot or by car in a matter of minutes. All our holiday apartments are also close to other key points on The Agatha Christie Mile.
At our Muntham Apartments and Town House we have a variety of luxury accommodation from a three bedroom town house with its own private hot tub(for up to five people) through to one bedroom apartments and studio apartments too.
We also have the one bedroom luxury Hesketh Crescent Apartment just a stone's throw from one of Agatha's favourite beaches at Meadfoot Bay. With all of the apartments being located in the centre of Torquay guests are also able to make the very most of the opportunity to explore the early influences of The Queen of Crime.