Getting to Greenway
Greenway is tucked away down country lanes just beyond the village of Galmpton. The house is on the banks of The River Dart. It can be reached by car and is approximately 25 minutes from Torquay. Visitors wanting to use their car to get to the house need to book them in. This can be done by telephone or if the visit is more than 24 hours away it can be done online.
An alternative way to get to Greenway is by steam train. Trains leave Paignton station and stop at Greenway Halt. From there mini coaches take visitors to the house before returning them to the halt in time for a return journey to Paignton.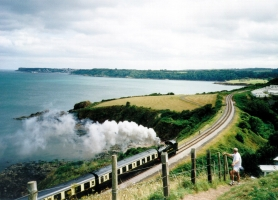 For visitors who make their way to Dartmouth, a river boat service operates to Greenway Quay.
For visitors with restricted mobility, a buggy operates from the main car park to the house as well as from the quay up to the house.